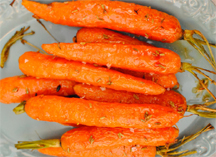 2 lbs organic carrots, scrubbed and rinsed (cut into thick coins if you like)
1 tbsp olive or coconut oil
3 tbsp maple syrup (use Grade B – the super tasty stuff)
2 heaped tbsp crushed fennel seeds
Drop carrots into boiling water and bring back to the boil, and fast simmer for five minutes. Drain then pop into a wide shallow bowl (or on the baking tray) and toss with the oil and fennel seeds until well coated. Roast on a baking tray for 15 minutes at 400F.
Pull the tray from the oven and drizzle over the maple syrup with a teaspoon then gently shake the tray a little to get the carrots well covered in syrup. Roast for a further 5 minutes, until the syrup starts to bubble but not burn. Carefully place the carrots in a serving dish. Use a spatula so you don't pierce the skins. Serve warm.
Make ahead: Roast with the oil and allow to cool, then store in an airtight container or wrapped in foil. When you are about ready to eat, heat a baking tray in a 400F oven oven, toss the carrots in the maple syrup and decant onto the hot tray. Roast for 8 minutes, or until bubbly and fragrant.