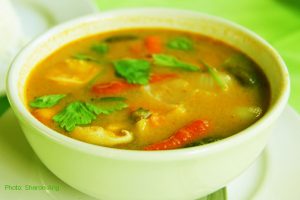 I love soup. Some dishes I make extra soupy just to have more broth. I like my curries extra brothy so I add at least a cup more broth or water and spices to the recipe below. 
LEMON GINGER FISH CURRIED SOUP
Ingredients
One chopped onion
6 chopped cloves of garlic
1/2 half red pepper cut into strips
1 chopped thumb sized piece of fresh ginger
1/2 tsp turmeric
1/2 tsp paprika
1/2 tsp cumin powder
1/2 tsp coriander powder
1 tsp fresh ground black pepper
2 keffir lime leaves
1 tbsp coconut oil
1 tbsp fish sauce
1 tbsp palm sugar
½ tsp salt
Mix these ingredients together into a paste and cook the paste for 5 minutes to blend the flavors.
Here's where you add the coconut milk.
Tradition calls for 2 cups coconut milk, which is delicious and also adds 800 calories and 36 grams of fat. I'd personally opt for a 1/2 cup coconut milk and 1.5 cups chicken broth
Simmer 20 minutes to blend the flavors.
Here's where you add the fish.
Cut 1-2 lbs firm white fish into 2 inch chunks and drop into the soup. They'll be done in like 5-7 mins when they turn white.
Squeeze half a lemon into each individual bowl before adding soup. I top it with holy basil, you can use cilantro.