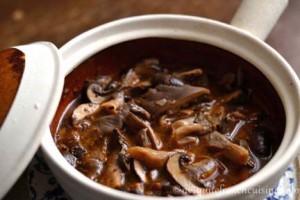 When I made the meatballs for yesterday's Low Fat Semi-Homemade Turkey Meatball Veggie Soup, I didn't follow the recipe and added a shake of red pepper flakes as well as too much jerk seasoning. It made them a little too hot and a little too herby. I knew I could add potato and mushroom to the soup to draw some of the flavor out of the meatballs, and I could season the soup only lightly, since it would draw spice from the meatballs. It was so easy and turned out so well I wanted to share it with you.  
You'll make the meatballs ahead of time and stick in the fridge for an hour to settle into shape. Earlier I'd roasted some veggies, so I added a cup each of roasted carrots and onions to a 2 quart saucepan, then added two 1-quart cartons of low sodium chicken broth. I chopped 2 large russet potatos very finely diced, and 16 oz of white mushrooms.  I added a teaspoon each of turmeric, salt, pepper, garlic powder, dried basil, dried tarragon, fennel seeds and 1 tbsp fresh chopped rosemary. I added 2 dried bay leaves and brought the pot to a simmer for 30 minutes. (Had the meatballs not been so spicy this time, I would have also added a half teaspoon of  jerk seasoning.)
I used a hand mixer to puree the soup down to a smooth consistency, like runny mashed potatoes, or a thick gravy.
Yesterday I'd rolled some ground turkey meatballs about thumbsize and put in the fridge overnight. Instead of frying them or baking them, this time I dropped them raw into the simmering soup like you would a dumpling. I'd made them extra moist so I knew they may fall apart if I kept the heat too high. I let them simmer on low 10 minutes.  I'll do that again, it had high flavor. Here's how I did the meatballs:
One pound lean ground turkey
1/2 cup panko  breadcrumbs
2 eggs or about 1/3 cup Egg Beaters
2 tbsp mayo
2 tbsp fresh chopped rosemary
1 tbsp dijon mustard
1 tsp worchestershire sauce
1/4 tsp Liquid Smoke
1 tsp vinegar
1 tsp jerk seasoning
Mix as best you can and form into meatballs.  They will be very sloppy, you need that because that's how they stay moist.  Place on wax paper in refrigerator until ready to cook.  I like burgers done this way as well.
RELATED:  Spicy Savory Low Fat Turkey Meatballs
Gluten Free Low Fat Vegan Two Potato Soup
A hearty lowfat potato, sausage, kale stew
Vegan White Bean, Roasted Mushroom and Kale Soup
A lowfat roasted veggie soup: vegan, gluten free, sugar free