ANDREA'S MULTI-DIMENSIONAL 4 WAY WRAP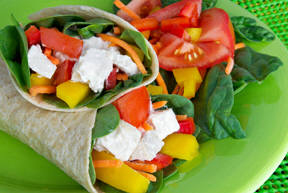 This is an easy, almost endless variety of sandwich ideas. Simply:
Step 1. PICK A WRAP (TORTILLA)
There are so many good wraps in the market now, I like the spinach wrap and the sun dried tomato flavors.
Step 2 PICK A SAUCE:
Recipes below
Hummus
Guacamole
Gaucamole Sauce
Tahini Sauce   
Step 3. Pick 1-2 from the Chopped List
CHOPPED:
Watercress
Romaine
Spinach
Tomato
Cabbage
Onion
Corn
Fresh herbs
like basil,
oregano
tarragon,
cilantro
Step 4. Pick 1-2 from the Matchsticks List
MATCHSTICKS:
Firm tomato meat
Summer squash
Green payapa
Bell pepper
Cucumber
Zucchini
Pickles
Scallion
Fennel
Celery
Carrot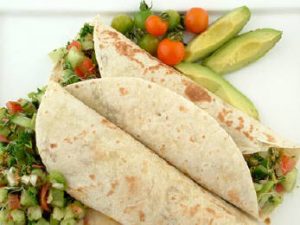 Step 5. Pick 1-2 from the Extras List
EXTRAS:
Hot or sweet peppers
Alfalfa sprouts
Bean sprouts
Avocado
Pimento
Cheese
THE SAUCES
Guacamole
Guacamole must be made with ripe, flavorful avocados. What's ripe? Press the outside of the avocado. It should have just a little give. If it has no give, that's the one you buy to eat next week.
2 ripe avocados
1/2 red onion, chopped fine
1 tablespoon of fresh lime or lemon juice
1 teaspoon sea salt
A dash of freshly grated black pepper
1/2 ripe tomato chopped
Guacamole sandwich dressing
Make the above guacamole recipe. Add to it 1/4 cup Nayonnaise, light whipped cream cheese or sour cream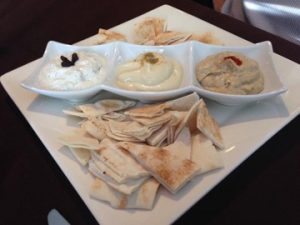 Tahina sauce
Tahina sauce is made from tahini – a sesame seed paste. Tahina sauce is thinner and used in sandwiches and dips.  Used very often in Mediterrean dishes.
Ingredients:
* 1/2 cup tahini (sesame seed paste)
* 3 gloves garlic, crushed
* 1/2 teaspoon sea salt
* 2 tablespoons olive oil
* 1/4 cup lemon juice
* 1/4 cup parsley, finely chopped (optional)
Combine all in blender and blend until smooth. Add more lemon juice to thin it out.
Here's a recipe for a wrap I just made, trying to duplicate one I got at Mother Earth Market in Ocala.  I call it my Spinach Carrot Hummus Wrap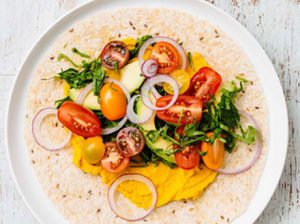 You will use 10 Minute Hummus for this recipe
10 MINUTE HUMMUS RECIPE
1 16 oz can of chickpeas or garbanzo beans
1/4 cup liquid from can of chickpeas
Juice of one lemon (depending on taste)
1- 1/2 tablespoons tahini
5 cloves garlic, crushed
1 teaspoon sea salt
2 tablespoons olive oil
A handful of chopped parsley, maybe fluffing up to a cup including fluffy tops
Preparation:
Drain chickpeas and set liquid aside for later. Combine remaining ingredients in blender or food processor. Add 1/4 cup of liquid from chickpeas. Blend for 3-5 minutes on low until thoroughly mixed and smooth.
If this was a dip, you'd add more garbanzo bean water to make it dippy.  To keep it firmer and more sandwichey, less garbanzo water
How To Assemble Your Carrot Hummus Spinach Wrap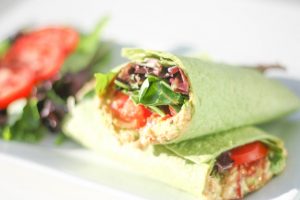 Warm a tortilla wrap on the stove to soften it.  As you assemble it, remember you will want to fold it over, or wrap it up, so leave room to do that.  Or you can just leave it as a big sloppy hand feedbag like my cousin does, and eats it over the sink.  The spinach wraps are more fragile and tend to split when folded.
Place your tortilla wrap on the plate.  Put 1-2 tablespoons of hummus in the center and spread it around the center.
Put some fresh spinach leaves in the center.
Add another 1-2 tbsp of hummus.
Place a handful of carrot matchsticks on top of the hummus.
Add another 1-2 tbsp. hummus or tahina sauce and fold up.
Awesome flavor, healthy, lowfat.
Another favorite wrap includes hummus and tabouli
Tabouli
1 cup cracked wheat (bulghur)
1 cup very hot water
1 small cucumber, chopped
1 small tomato, chopped
4 scallions, sliced
1/2 cup fresh chopped mint
1 cup fresh chopped parsley
4 cloves garlic, minced (optional)1/4 cup fresh lemon juice
4 tablespoons of extra virgin olive oil (to make it fatfree, use chickpea liquid or vegetable broth instead)
Pepper and salt, to taste
(add a pinch of allspice if you like)
Soak the cracked wheat in the hot water until the water is absorbed, about 30 minutes.
Drain any excess water, if necessary, and squeeze dry.
Combine the salad ingredients, including wheat, in a medium bowl.
Mix the dressing ingredients together and stir into the salad mixture.
Serve chilled or at room temperature.