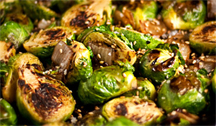 2 Tbsp olive oil or coconut oil
3 cups fresh Brussels sprouts, sliced in half
1 onion, chopped
2 Tbsp sesame seeds
1/2 tsp coarse sea salt
Heat a heavy skillet (I love my cast iron) over medium-high heat, add sesame seeds and toast for about 3-5 minutes, or until golden brown and fragrant. Remove from pan and set aside. Add 1 Tbsp olive oil and onions to hot pan and cook until caramelized – soft and nicely browned around the edges. Remove onions and set aside. Add 1 Tbsp olive oil to hot pan and add Brussels sprouts, placing them face down. Cook for 5-7 minutes, and when Brussels sprouts are beautifully caramelized, turn over and cook for an additional 5-7 minutes. Add onions back to pan to heat up, stirring to mix with Brussels sprouts.
Season with toasted sesame seeds and coarse sea salt.
From http://theveganroad.com/recipes/caramelized-brussels-sprouts/