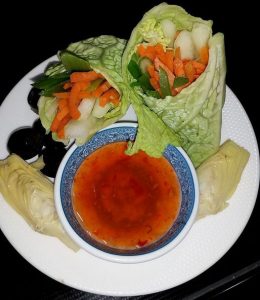 I've been using rice paper to wrap Summer Rolls and learning I can roll almost any kind of sandwich into rice paper to avoid bread and save calories. For traditional summer rolls tho, it's as easy as a little prep ahead of time — chopping vegetables into slivers and having them ready in stackable plastic containers so I can easily lay them out in front of me when I'm making the roll. 
I start by filling the fridge with stackable plasticware containing uniform strips of the vegs that will go in the rolls. I wash, dry, slice and stack when I get home from the store.
I make my dipping sauces, see recipes below.