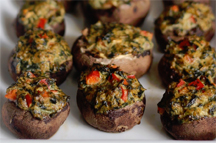 Use mushrooms like criminis or white button varieties that are slightly flat on top, so that when you stuff them, they will sit nicely in the baking pan. You may also try another leafy green such as chard or kale in place of the spinach. For additional crunch, sprinkle the stuffed mushroom tops with breadcrumbs.
Ingredients
16 oz whole crimini or white button mushrooms,
1 t olive oil
1 garlic clove, minced
¼ c yellow onion, diced
¼ c dry white wine
2 T soy sauce
3 c baby spinach
2 T non-dairy cream cheese (I use Tofutti brand)
1 T nutritional yeast
? t cayenne
¼ c red pepper, finely minced
optional garnish: chopped parsley
Instructions
Preheat oven to 375.
Remove stems from mushrooms. Leave caps intact and chop stems.
Heat olive oil in a saute pan over medium heat. Add onion, garlic and mushroom stems and stir to combine. Stir in white wine and soy sauce, continuing to cook until vegetables become tender, about 3 minutes. Stir in baby spinach and cook until fully wilted.
Transfer vegetable mixture to a food processor. Add cream cheese, nutritional yeast and cayenne and blend to combine. Transfer to a bowl and stir in diced red pepper.
Set mushroom caps top side down (hole side up!) in a baking dish. Add a spoonful of the filling to each cap, mounding filling slightly over the top. Bake 30 minutes.
Remove from the oven and serve hot. Garnish with fresh parsley, if you like.