Andrea's Spicy Low Fat Seafood Chowder
Marinate 1 lb of shrimp or bay scallops in the juice of 2 lemons while you begin
Saute 6 cloves freshly chopped garlic in 2 tblsp olive oil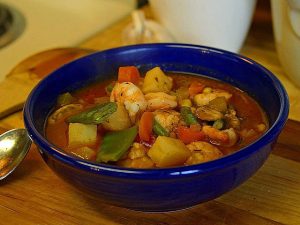 Dice and add:
I giant whole leek
1 fat stalk of fennel
I parsnip
2 whole carrots
Corn from one raw ear
4 stalks celery
1/2 tsp turmeric
1/2 tsp thyme
1 bay leaf
Few shakes of red pepper flakes
One shake of cayenne pepper
handful of fresh basil torn up, maybe 20 leaves
7 strands saffron
salt and pepper
Stir until the vegetables soften and reduce, then add:
1 giant can chopped tomatoes
32 oz of lowfat low sodium chicken broth
A handful of bay scallops for flavor
Simmer 45 minutes, then add the rest of the scallops.
 It's ready when they are done, 5-8 minutes, but I add them and cook another 30 minutes so they kinda melt into the stock.  I've also poached fish filets on top of the broth, for more protein and a heartier meal.
 My First Of The Fall Soup
This is my favorite First Of The Fall soup, brought on by the first cold snap of the season.  This has no meat but you can throw a hamhock or 2 in with it if you like.
Take a large pot add 2 tbsp oil and begin to heat.
Dice and throw into the pot:
7 cloves of garlic
one large white onion
2 big carrots
3 stalks of celery
1 sweet potato
Stir this around until the vegetables all have a little bit of browning happening.
Then I add a giant can of chopped tomatoes
32 oz lowfat, low sodium chicken broth
Salt and pepper
1 tbsp each:
tarragon
thyme
cumin
oregano
Worchestershire
 1 bay leaf
 bout 30 fresh basil leaves 
I let this cook at least 45 minutes, but it often ends up simmering for 2-3 hours because I like the flavor of the tomato after it hits that breakdown point.
Before serving, I add a tbsp of Sriracha sauce and a tbsp of apple cider vinegar.