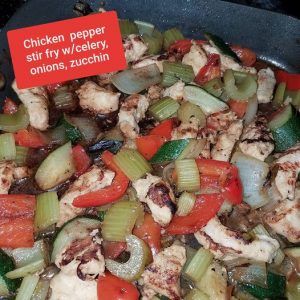 Today I made an easy chicken and veg stirfry that was really tasty. First, I velveted my chicken breast for 4 hours beforehand in a mixture of 1/2 cup egg whites (or Eggbeaters,) 2 tbsp corn flour and 2 tbsp vinegar.  The formula to keep meats tender is egg white, corn flour and an acid.  Velveting is not a tenderizing method, but it keeps foods from becoming tough.  Then I heated my big square grill pan and tossed in 2 tbsp coconut oil and a cup each of chopped (into BIG chunks) celery, onion, red bell pepper and zucchini. After the veg begin to brown, toss into a big bowl for later.
Make 1 cup of ginger hoisin sauce: 2 tsp each soy sauce, hoisin, ginger paste, 1 tbsp rice wine vinegar and chili garlic sauce, add water to make 1 cup. Then stir into the liquid 1 heaping tbsp of cornstarch and mix it into a slurry. Save for later.
Drain the marinade from the chicken and drop it into the hot grill pan. No need to add more oil. It's ok if it looks icky, it will cook down fine. Keep it on a medium high heat to cook quickly. Get grill marks on both sides, then toss the cooked veg on top of the chicken. Stir the sauce well to mix the cornstarch together, then toss the sauce on top of the vegs. Stir to mix well. Keep the heat medium high so the sauce begins to cook down.
All of this should take 10-15 mins.
RELATED: How to make chicken tender like the Chinese restaurants