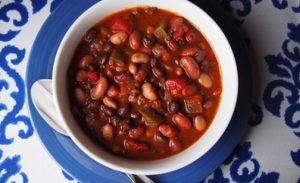 For this recipe, you'll use the packet of 15 bean soup mix but you will NOT use the seasoning packet. I like a highly flavored soup but I don't care for all the sodium contained in the seasoning packets. I've learned it's just as easy to make my own (link here for Homemade Cajun Spice Mix. You'll notice the cajun spices are also the recipe for homemade chili powder.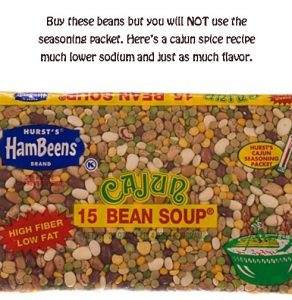 1 package (16 to 20 oz) 15 dried bean soup mix (2 1/4 cups)
Rinse and soak beans for 8 hours ahead of time. Place in slow cooker and add water to cover by 3″
One 32-oz carton of low sodium chicken broth
3 medium carrots, chopped
3 medium stalks celery, chopped
1 large onion, chopped
1 tablespoon sea salt
1 tablespoon garlic powder
1 teaspoon onion powder
1 teaspoon cayenne pepper
1 teaspoon paprika, sweet or smoked
1 teaspoon dried oregano
1 teaspoon dried thyme or 5 fresh sprigs
1 teaspoon freshly ground black pepper
I also add 8oz of cut up mushrooms so they can melt into the soup for flavor
In 5-to 6-quart slow cooker, mix all ingredients.
Cover; cook on high heat setting 5 hours.
Keep checking, add water or broth as needed if the beans soak it up.
At the end, stir in 1 can of tomatoes and 1 tsp – 1 tbsp vinegar. Cover and cook about 15-30 minutes longer.
RELATED: Homemade Cajun Spice Mix