(1) Preheat the oven to 350 degrees.
(2) Remove the skin from 4-6 bone-in chicken thighs.
(3) Line an oven sheet with foil and spray with cooking spray, or place on a wire rack.
(4) Arrange the thighs and spray them.
(5) Using a half teaspoon of each, season the thighs with with sea salt, fresh ground pepper, granulated garlic, turmeric, paprika, dried tarragon, basil and oregano leaves.
(6) Into the oven for 20-25 minutes until top begins to crisp.  Then turn over, season the other side, back into the oven for 10-15 minutes.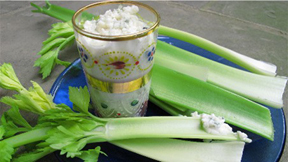 They come out more tender when I use this lower temp and longer cooking time.  I typically bake a potato at the same time when I cook these, but tonight I just had romaine and celery sticks with ranch dressing.  I like to keep a cooked chicken in the refrigerator for quick bites of protein when I need a snack.