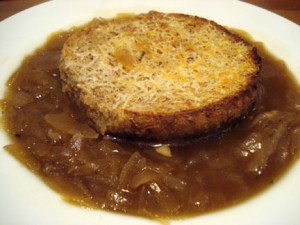 LOWFAT EASY HOMEMADE FRENCH ONION SOUP FROM SCRATCH
This version calls for caramelizing the onions in the oven rather than on the stove top. This gives you more flavor out of the onions without having to continually stir them.  
INGREDIENTS:
2 tablespoons olive oil
Dried tarragon and basil, 1 tsp each
4 large yellow onions, cut into chunks
3 cups Swanson or College Inn low fat chicken broth
1 cup Swanson or College Inn low fat beef broth
1 bay leaf
Ground black pepper
DIRECTIONS:
Heat the oven to 400 degrees. In a shallow pan, spread the chopped onion, then toss with the olive oil, tarragon and basil. A metal pan works best for best carmelization. A glass or ceramic pan will just take longer. Do not use a higher heat. 
Roast for about 15 minutes, then stir and roast for another 10 minutes.  Scrape the pan as you stir the onions, and keep roasting and stirring until the onions are beginning to get golden but not too brown.  It may take about 30 minutes.
IMPORTANT:
If you have anything else in the oven at the same time, moisture produced by the other food may steam rather than roast your onions.  I found that out by having an acorn squash in with my onions one time.  You're looking for the dry heat here, for a nice roasting, so roast the onions in the oven alone.
When done, remove the pan from the oven, and pick out any really burned black bits. The dark brown bits are fine.  Pour in 1/2 cup each chicken broth and beef broth to deglaze the pan, stirring until the bottom is scraped clean.  Pour the onions into a saucepan with the remaining broth and the bay leaf.
Increase heat and bring to simmer, cover, and simmer for 30 minutes. Remove and discard bay leaf, then season with salt and pepper as needed.
A LOWFAT CHEESE CROUTON TOPPING:
Adjust oven rack 6 inches from broiler element and heat broiler. Set individual broiler-safe crocks on baking sheet and fill each with soup. Top each bowl with a Holland Rusk Light Crisp Toast round,  Place a piece of Jarlsberg Lite Reduced Fat Swiss Cheese on top and broil until cheese is melted and bubbly around edges, 3 to 5 minutes. Let cool 5 minutes before serving.