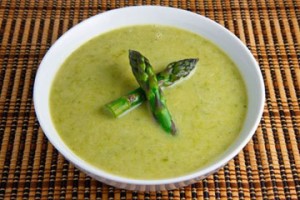 I eat this soup when my tummy is upset. You can make a spicier version of this by doubling the dried herbs & spices.
INGREDIENTS:
1 tsp olive oil
2 medium onions
4 small organic carrots
2 large stalks of celery
1 package of fresh asparagus
32 oz fat free chicken broth
3 bay leaves
1 tsp sea salt
Dried basil, cumin, oregano, black pepper, 2 shakes each  
DIRECTIONS:
Chop the vegetables fine since you will puree them before adding the asparagus. This makes it a real creamy soup with a cream of asparagus feel and taste, but without the fat
In 1 quart saucepan saute the onions, carrots and celery stalks in the olive oil til golden, keep stirring them to get them all a little browned.
Add the broth, the bay leaves and the herbs and spices.
Simmer 25 minutes.
Remove bay leaves but do not discard them yet.
I use a handmixer to puree the soup to a nice smooth consistency. You don't have to puree it, but I do when I'm healing from an upset tummy.
Add the bay leaves back in.
Cut the bottom 2″ off the asparagus and discard, then and dice the asparagus finely and add it in.
Simmer another 25 minutes. This soup has good natural flavor and is so healing to the body.