I spent an hour or so watching YouTube videos on how to make those delicious rice paper wrapped summer rolls that I get in the Thai and Vietnamese restaurants.   One day last week I was on the road all day and stopped in a Publix in Mt. Dora to pick some up for lunch for the drive home.  I like that they make them fresh at Publix.  I like California roll too, although I can do without the fake krab.  I thought, I could easily make these at home and I set out to do so the next evening.  A bit of a disaster, since the rice paper I had was from 2007 and it fell apart as I placed it in the hot water to soften.  I ended up wrapping too many veggies in green leaf lettuce alone, and having a big open mess to eat.  I set out to discover how to do it the right way.  That's one thing I love about the internet:  you can learn how to do almost anything in a Youtube video, for free, without leaving home to take a class.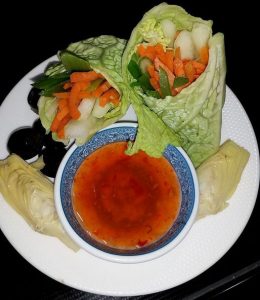 The first thing I saw was that I was putting way too many veggies into one roll and I wasn't planning it well.  I didn't take into account the natural way the green leaf lettuce wanted to fold.   That made for big, sloppy, loose wraps.  After I watched a few videos, I used only a few uniform strips of carrot, cucumber, scallion, daikon radish, and avocado atop the lettuce, then a slim bed of sprouts, topped with rice noodle vermicelli.  I followed the natural curve of the lettuce and made much nicer, tighter wraps.
I went to the oriental grocery and bought some fresh rice paper wraps, as well as an avocado and some sprouts.  I like flavoring the rice vermicelli ahead of time.  THIS IS ALSO THE DIPPING SAUCE when diluted by half with water: I mix it with 1 tsp rice vinegar, 1 tbsp lime juice, 1 tbsp palm sugar, 1 tbsp Three Crabs brand fish sauce, 1 tsp of sambal oleck or chili garlic sauce and about 20 leaves each of fresh chopped mint and holy basil. Mix the sauce into the rice vermicelli until coated and refrigerate until you use.  It keeps for a few days.  Sometimes I like making a bed of bean or alfalfa sprouts for the veggie matchsticks, instead of the rice noodle vermicelli, when I want to keep it a little lighter.
NORI ROLLS
I also watched videos on how to make nori rolls, since I've never been able to roll them tightly, even using the bamboo rolling mats.  Back in the day, I was never good at rolling a joint either, although the bamboo roller helped.  I thought it would be the same. but  it was not.  So I bought some sushi nori sheets also and another bamboo roller.  I already have the big gallon sized zip lock baggies to wrap it in before using.  That cuts down on having to clean it.
I like substituting the imitation crab in the California roll for canned tuna, sardines, a strip of cooked egg or tofu.  I was surprised at how much mayonnaise the sushi makers used in the videos.  No wonder it tastes so good.
If someone told me I'd be eating this way even 5 years ago, I would not thought it possible.  It's been gradual changes here and there, less fat, few starches, smaller portions.  It's been a journey of learning to heighten flavor without adding fat and calories.  I would not thought it possible to make this drastic a change in just 5 years, much less have created a website that was all about recipes for healthy eating Goddess Grub, Luscious Lowfat Meals for the Goddess on the Go.
A giant benefit is that the first 6 months I changed my diet, I lost 50 pounds.  I needed to; I'd let it creep up on me.  I lost another 10 over the next 2 years without really trying, just by eating healthily.  Last year I dropped another 5 pounds, again not trying to, just naturally refining my eating habits as I am led to ingest smaller portions of lighter foods.
I'm thinking it looks like a summer of yummy Asian inspired summer rolls and nori with my favorite tom yum and other Asian flavored soups. That's about all the planning I'm going to do this summer.  I'll enjoy the unfolding of the rest as it happens.
3-7-11 update  I've discovered the secret to a smaller, tighter nori roll.  When putting the rice (sushi rice is steamed rice mixed after cooking with 2 tbsp rice vinegar, 1 tsp palm sugar, let cool before using) on the nori sheet, I put it only in the middle section, with a little extra rice at the left and right edges.  I spread it out so it is only 1 rice grain deep and I can see the nori beneath it, maybe only 75% coverage.  Then I layer a thin horizontal strip only of first the avocado, then the lettuce (the avocado anchors it), then the other veggies.  The lettuce keeps them from poking thru the nori sheet.  Then, when I roll it inside the bamboo wrapper, I can get it nice and tight.  Having rice and avocado at the outer edges lets them be held together easier when you use pressure during the bamboo rolling part of it.
For an inside out roll, like California roll where the rice is on the outside, you'd use more rice and a heavier layer so the nori does not show thru, and you'd cover the entire sheet.
Nori Maki and Summer Rolls are as easy to make as a taco or burrito