This whole week I've been Learning to Wrap Summer Rolls and Nori Maki and  it's as easy as making tacos once you know the steps.  Just like tacos or burritos, it's a bunch of chopping vegetables into slivers and having them ready in stackable plastic containers so you can lay them out in front of you when you're making the roll.  Yesterday I tried a new idea.  I made a killer tuna salad for lunch with canned albacore, scallions, carrots, fresh holy basil, cucumber, slivers of fresh ginger and Duke's mayo.  Then I rolled it into nori maki atop a bed of alfalfa sprouts.  Oh, man! Yum!
I left the salt out of the recipe since I'd be dipping them into soy sauce.  It was really good, although next time I will make them with the rice on the outside — an inside-out roll, like California roll.  That will let the seaweed taste of the nori blend with the other flavors.
I've gotten a lot better at making the rolls smaller and tighter. 
It's a balance since I want them compact but I don't want the rice compressed.   I thought it would be like pancakes where the first thousand get thrown away, but I had it down about a dozen rolls later.
I start by filling the fridge with stackable plasticware
containing uniform strips
of the vegs that will go in the rolls.
Julienne strips of carrot, cucumber, scallion, daikon radish, yellow squash, zucchini, along with sliced avocado, and leaves of Thai/holy basil, coriander and mint.   Wash, dry, slice and stack when you get home from the store and you won't take up all that room in the fridge.
You can also add strips of chicken, fish, meat or shrimp. 
I've done it with sardines. You can do it with sushi grade raw fish if you can find it.  You can sprinkle with sesame or sunflower seeds if you'd like. I wonder how an apple, blue cheese and walnut nori would taste.
You can cut into matchsticks any vegetables you like
Try them in different combinations.  You'll use only a thin stripe of veggies in the roll, much less than a full serving.  Start with about two fingers worth of veggies and see how big your roll wraps up.  Avocado is a great binder and source of fat if you are not using meats.  Besides using different combinations of the above veggies, here are more flavors I like:
RECIPE — ROASTED PEPPER AND SALMON CREAM CHEESE NORI
—  I like to make an inside-out roll spreading softened salmon cream cheese on the nori, add a stripe of alfalfa sprouts, a scallion stick, and roasted red pepper strips.  Wrap, cut and serve with soy dipping sauce.  My cousin cheated and added bacon to his.
RECIPE — SPICED RICE VERMICELLI FOR SUMMER ROLLS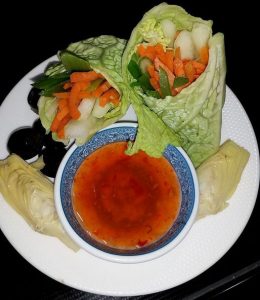 — Toss a handful of rice vermicelli (rice sticks) in boiling water, remove from heat and cover for about 12 minutes until tender.  Drain.  Mix  2 tbsp rice vinegar or lime juice, 2 tbsp palm sugar, 1 tbsp fish sauce and 1 teaspoon of chili garlic paste or sriracha and pour over.  Add 1 tsp each of:  chopped scallions, cukes, carrots, cilantro, basil, mint,  pickled ginger, daikon and mix together well.  Drain well before including in summer roll.
TO MAKE THE SUMMER ROLL
Soak your rice paper in hot water for 5 seconds — you want it fully wet, you do NOT want it to soften. It will continue to soften as you work with it.  Then place on a damp cutting board.  Place a lettuce leaf  (the hard white part of the spine removed) in the palm of your hand.  Spoon the spiced vermicelli onto the leaf and, if you like, add some carrot and cucumber matchsticks, a scallion stick,  2 avocado slices.  Place atop the rice paper and roll it up, keeping it gently tight and wrapping the sides toward the middle.  Cut in half.  A sauce of peanut butter, hoisin and water is traditional but I like to serve with a sweet chili dipping sauce.
HOMEMADE SWEET CHILI DIPPING SAUCE:
Makes 1/2 Cup of Sauce
1/4 cup rice wine vinegar
2 tablespoons fish sauce
1/4 cup hot water
2 tablespoons palm sugar
1 lime, juiced
1 teaspoon minced garlic
1 teaspoon red chili paste, such as sambal oleck
Place all ingredients in a sauce pan or pot. Bring to a rolling boil.  Reduce heat to medium and let boil for 10 minutes, or until reduced by half.
Off to one side, make a cornstarch slurry in ROOM TEMP water: 
Add 2 tablespoons cornstarch shaken into 4 tablespoons room temperature water that you are whisking around quickly.  It will easily dissolve and make a thin paste. (If you pour the water into the cornstarch, it will make a big lumpy mess you can't use.)
Add the cornstarch-water mixture to the sauce and reduce heat to low and. Stir to incorporate and continue stirring occasionally until the sauce thickens, about 2 minutes.
Remove from heat and taste-test. You should taste sweet first, followed by sour, then spicy then salty. If the sauce isn't sweet enough, add a little more sugar. If not hot and spicy enough, add more chili.  If it needs salt, add more fish sauce.
GREEN PAPAYA SALAD FOR SUMMER ROLLS
3 1/2 tablespoons Asian fish sauce
3 1/2 tablespoons fresh lime juice
3 tablespoons palm sugar
1 small green papaya (about 3 cups)—peeled, seeded and coarsely shredded
2 carrots, coarsely shredded
3 tablespoons chopped cilantro
3 tablespoons chopped mint
Mix together in a large mortar or wooden bowl, using a large pestle to bruise the papaya to allow the spices to soak in.  Mix and bruise for about 5 minutes, then refrigerate for an hour to blend flavors.  Drain well and use as a filling for a summer roll.
A QUICK ASIAN SOUP TO GO WITH SUMMER ROLLS AND NORI MAKI
I'm a soup lover, even in hot weather.  I especially like a hot soup if I am eating cold foods, such as salads, wraps and rolls.  For dinner last night, I made a quick soup:
2 cups chicken broth
1 stalk lemongrass smashed (will remove later)
2 keifer lime leaves bruised (will remove later)
a thumb size of sliced fresh ginger (will remove later)
1 tsp tamarind paste
Simmer for 20 minutes.   Strain and add 1 tsp fish sauce, 1/2 tsp palm sugar, a squeeze of lime and a 1/4 tsp chili garlic sauce.  If I'd made it with shrimp and mushrooms, it would have been a classic tom yum soup.
RELATED: Learning to Wrap Summer Rolls
Goddess Grub Three Asian Quick Soup Recipes