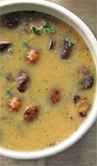 Last night I roasted peppers, onions and potatoes in the oven with olive oil and fresh rosemary, thyme and tarragon. I separated and chopped small the onions and peppers, then roasted a pan of mushrooms. Oh yum the mushrooms were so fragrant and released such intoxicating juices. I was thinking of making a simple clearish soup with the roasted vegs thrown in, but end up making a White Bean, Roasted Mushroom and Kale Soup:
VEGAN WHITE BEAN, ROASTED MUSHROOM AND KALE SOUP
(Below is Andrea's modified version, see link for original)
Ingredients
16 oz. mushrooms, halved or quartered
2 large sweet onions, quartered (not smaller or will burn)
1 large or 2-3 small flavorful potatoes, diced very small
1 handful of kale, chopped
3 garlic cloves, slightly crushed
1-2 tablespoons olive oil
1½ teaspoon salt, divided
1½ teaspoon pepper, divided
8-10 fresh sage leaves*
8-10 stems + 1 tablespoon leaves fresh thyme*, divided
48 oz. vegetable broth (or chicken if you like)
2 – 15 oz. cans white beans, not drained (I prefer cannellini beans)
Additional salt and pepper for seasoning
Instructions
Preheat oven to 450°F.
Toss mushrooms, garlic and onion in olive oil, 1 teaspoon salt, and 1 teaspoon pepper. (Keep mushrooms separate on baking sheet for roasting.) Spread on baking sheet. Add sage leaves and stems of thyme. Roast in 450° F oven for 10 minutes, toss and roast for additional 15 minutes.
While vegetables are roasting, add broth, beans, diced potato, kale, ½ teaspoon salt, ½ teaspoon pepper, and 1 tablespoon fresh thyme leaves to a large stock pot over medium heat and simmer 15 minutes.
When vegetables are done roasting, let cool slightly then add to blender.
Retrieve 2 cups of the white beans, and 1 cup of broth from the stock pot, let cool.
Add cooled broth and beans to blender with roasted veggies, garlic and herbs. Cover and blend until smooth.
Add pureed bean mixture back to stock pot, whisking in until smooth. You will have some white beans left whole for texture. Add roasted mushrooms to soup. Salt and pepper to taste.
I also add a few shakes each of cayenne pepper, cumin powder, cinnamon, chili powder for heat. Warm over low heat until ready to serve. I spray the top with. Bragg's Liquid Aminos for salt.
*Dried herbs may be substituted for fresh. The rule of thumb is one part dried, to three parts fresh.