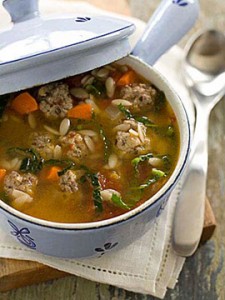 I've been making lazy soups, semi-homemade soups. I've got it down to a formula.  I love formulas.  The formula is:  (1) choose a protein,
(2) chose your veggies,
(3) choose a broth: chicken, beef, veggie
(4) choose your spices, then
(5) simmer and eat. 
I've been grilling vegetables in my new grill pan so when I do that, or when I roast veggies, I set some aside to add later to soups and salads.  This morning, I had some grilled peppers and onions that I put in a small (1 quart) saucepan and filled half way with low sodium chicken broth.  I added a teaspoon each of turmeric and jerk seasoning, a half teaspoon each of salt, pepper, garlic powder, dried basil, dried tarragon and fresh chopped rosemary.   
Yesterday I'd rolled some ground turkey meatballs, so I dropped a few raw into the soup like you would a dumpling. I'd made them extra moist so I knew they may fall apart if i kept the heat too high.  I let them simmer on low about 30 minutes, then added some frozen mixed vegetables and cooked another 10 minutes.  I'll do that again, it had high flavor.  Here's how I did the meatballs:
One pound lean ground turkey
1/2 cup panko  breadcrumbs
2 eggs
2 tbsp mayo
2 tbsp cream cheese or sour cream
2 tbsp fresh chopped rosemary
1 tbsp dijon mustard
1 tsp worchestershire sauce
1 tsp vinegar
1 tsp jerk seasoning
Mix as best you can and form into meatballs.  They will be very sloppy, you need that because that's how they stay moist.  Place on wax paper in refrigerator until ready to cook.  I like burgers done this way as well.
Next time I'll make the meatballs very small as they do in Italian Wedding Soup. Which this would be if I omitted the frozen mixed vegetables and added orzo pasta and spinach.
NOTE: I like to keep things real low fat, so you can dip the wet meatballs or burgers into more breadcrumbs to coat and then fry in a little oil if you like.
RELATED:  Spicy Savory Low Fat Turkey Meatballs
1 tablespoon garlic powder
2 to 3 teaspoons cayenne pepper
2 teaspoons onion powder
2 teaspoons dried thyme
2 teaspoons dried parsley
2 teaspoons sugar
2 teaspoons salt
1 teaspoon paprika
1 teaspoon ground allspice
1/2 teaspoon black pepper
1/2 teaspoon dried crushed red pepper
1/2 teaspoon ground nutmeg
1/4 teaspoon ground cinnamon