I've had a relaxing, yet busy and productive week.  Last Friday, after I closed on my mortgage refinance, I got a few days off to enjoy the 4th of July weekend and recuperate from the month long fiasco of daily copying of financial documents before I had to begin working on the August issue of Horizons Magazine. I didn't know until the very day of closing whether I would close at all or not, so when I did, it was a big pressure off me.  I took a few days off to decompress and ended up sleeping a lot.  I also didn't feel like cooking much and so I made my favorite garlic parsley hummus and some babaganoush and ate it all weekend with pita triangles. When I'm feeling stressed, it relaxes me to cook and I love creating healthy and low fat versions of my favorite foods.  I used to think of hummus and pita as a snack, but now I realize it's a meal in itself.  I enjoy food so much more since I changed to a healthier diet.  Simpler foods satisfy me and I eat a lot less of them.
Here's my recipe for the EASIEST BABAGANOUSH ON THE PLANET:
1 large eggplant
1 small onion
4 cloves garlic
1/4 cup lemon juice
2 tablespoons olive oil
1 tablespoon tahini
1 teaspoon salt
Black pepper to taste
Turn oven on 400 degrees, cut the eggplant in half lengthwise and place in a metal pan. Drizzle with a little olive oil.
Chop the onion in quarters and drizzle with olive oil, then place in one corner of the metal pan.  This will brown first, so you'll take it out of the pan sooner.  Same with the garlic.  Leave the garlic cloves whole and peeled, drizzle with oil and leave with the chopped onion in a corner of the pan.
Roast for about 15 minutes, then check to see if the onions and garlic are beginning to get golden brown.  If it's time to take the onions and garlic out, do so now.  If not, check every 10 minutes until it is.  The eggplant may take 40 minutes. When the roasting is done, remove from the oven and let cool.
Take a food processor and into it put the tahini, lemon juice, salt and pepper.  Mix well. Once the vegetables are cooled, scoop out the eggplant, add the onions and garlic and blend.  Taste and add lemon juice and salt to taste.
Serve with pita triangles, or use as a dip for raw carrot, celery sticks, crudites.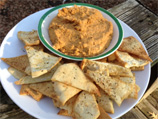 Here's my EASY 10 MINUTE HUMMUS RECIPE
A 16 oz can of chickpeas or garbanzo beans
1/4 cup liquid from can of chickpeas
Juice of one lemon (depending on taste)
1 – 1/2 tablespoons tahini
5 cloves garlic, crushed
1 teaspoon sea salt
2 tablespoons olive oil
A shake each of smoky paprika, poultry seasoning, garlic powder, coarse ground black pepper
A handful of chopped parsley, maybe fluffing up to a cup including fluffy tops
Preparation:  Drain chickpeas and set liquid aside for later. Combine remaining ingredients in blender or food processor. Add 1/4 cup of liquid from chickpeas. Blend for 3-5 minutes on low until thoroughly mixed and smooth.  If this was a dip, you'd add more garbanzo bean water to make it dippy.  To keep it firmer and more sandwichey, less garbanzo water.
Serve with pita triangles, or use as a dip for raw carrot, celery sticks, crudites.
Enjoy,
Andrea
Visit Goddess Grub, Luscious Low Fat Meals
The Hummus Blog Hummus Nutrition Facts
Hummus instead of Prozac