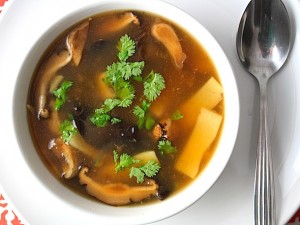 Chinese Hot and Sour Soup is a favorite of mine. Here are two recipes to try, and at the end I've included a link to an easy copycat recipe for P.F. Chang's hot and sour soup, which I've never tried.
Ingredients
6 cups chicken or vegetable stock
1 cup of white button or baby bella mushrooms
1 can of straw mushrooms
10 dried lily buds
2-3 tbsp black fungus aka wood ear
4-6 oz canned bamboo shoots, cut into thin slices
One 1-inch piece of ginger
A small block of firm silken tofu, about 5 ounces, cut into 1/2 inch cubes
1-2 teaspoons soy sauce, or more to taste
3 tablespoons cornstarch shaken into 4 tablespoons room temperature water that you are whisking around quickly.  It will easily dissolve and make a thin paste. (If you pour the water into the cornstarch, it will make a big lumpy mess you can't use.)
1-2 tablespoons (more to taste)  black vinegar, red vinegar or plain white vinegar
1/2 teaspoon ground white pepper or more to taste
Optional for heat: 1/2 to 1 teaspoon chili garlic sauce
Chopped scallions
Procedures
1. Put stock in a 3- to 4-quart saucepan and set aside. Reconstitute the dried lily buds and black fungus in 2 cups of hot water for 15 minutes. Strain and cut off and discard the tough dark ends of the lily buds. Cut them in half.  Discard liquid as it will be bitter.
2. Bring the stock to a boil over high heat, then reduce to a simmer. Add mushrooms, lily buds, ginger, and bamboo. Simmer for 5 minutes. Add the tofu and simmer until the tofu is warmed through, about 4 minutes longer.
3. Add the soy sauce to the soup and stir gently, taking care not to break up the tofu.
4. Pour in the cornstarch slurry in a few additions, stirring to allow the liquid to thicken before adding more. The soup should be thick and glossy.
5. Turn off the heat and add the vinegar and pepper, adjusting according to your tastes.  Serve immediately, garnished with chopped scallions.
Note: You may also add a 1/2 teaspoon of sesame oil for extra richness of flavor upon serving.  Do not cook the vinegar or sesame oil.
—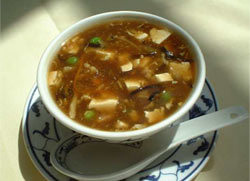 ANOTHER HOT AND SOUR RECIPE
I prefer fresh mushrooms to dried, so I don't use dried mushrooms.
INGREDIENTS
6 dried Chinese black fungus
6 dried wood ear, black, cloud, straw, or shiitake mushrooms, or one bunch of fresh enoki mushrooms
6 dried lily buds
One can of bamboo shoots
2 tablespoons of red wine vinegar
1 tablespoon of white vinegar or rice vinegar
1 1/2 tablespoons of soy sauce
1 tablespoon of cornstarch
4 cups of chicken or vegetable broth
1/2 block of firm tofu, diced into small cubes
1 egg, beaten
1 teaspoon of sesame oil
3 scallions, diced
1/4 teaspoon of salt
1 1/2 teaspoons of finely ground white pepper
1/4 teaspoon of chili oil (optional)
Cilantro (optional)
METHOD
1 Pour boiling water over the mushrooms until the mushrooms are covered and allow them to soak for 20 minutes, turning the mushrooms over occasionally. It may not seem like a lot but they will grow quite a bit. After soaking remove any woody ends with a knife. Cut mushrooms into strips. Reserve 1/4 cup of the liquid and mix with the cornstarch. (If using fresh enoki mushrooms set aside as they do not need to soak).
2 Pour boiling water over the lily buds until covered and allow to sit for 15 minutes. discard liquid as it will be bitter. Cut off the tough dark ends and discard. Cut the buds crosswise then tear them up into a few bunches.
3 Mix the vinegars and soy sauce together and set aside. Open the can of bamboo shoots, drain well, and cut the shoots lengthwise into strips.
4 Place the chicken broth into a bot and bring to a boil over high heat. Add the tofu, mushrooms, lily buds, bamboo shoots, vinegar mixture, and cornstarch mixture. Mix and bring back to a boil. Once it comes to a boil remove from heat. While stirring the soup slowly pour the egg into the broth in a small steam while stirring the soup allowing the egg to instantly cook and feather into the soup.
5 Add the scallions, white pepper, sesame oil, and chili oil if using. Taste and adjust white pepper, vinegar, and salt to taste. Add cilantro to garnish and for added flavor. Serve immediately.  Serves 4.
The easy copycat recipe for P.F. Chang's hot and sour soup http://chinese.food.com/recipe/p-f-changs-hot-and-sour-soup-356263