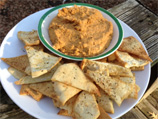 One 16 oz can of chickpeas (garbanzo beans)
1/4 cup liquid from can of chickpeas
Juice of one lemon (depending on taste)
1 – 1/2 tablespoons tahini
1 teaspoon sea salt
A shake of coarse ground black pepper
A shake of cumin powder
2 tablespoons olive oil
1/4 red pepper chopped
4 slices of pickled jalapeno
Preparation:  Drain chickpeas and set liquid aside for later. Combine remaining ingredients in blender or food processor, with red pepper and jalapeno near the blades. Add 1/4 cup of liquid from chickpeas. Blend for 3-5 minutes on low until thoroughly mixed and as smooth and thick as you prefer it.