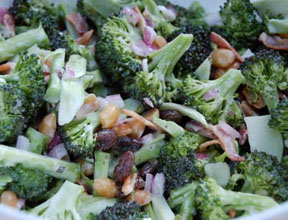 This is a spicy twist on a traditional favorite. I adjust the seasoning before I add in the broccoli and veggies. Here's the guide to finding your flavor preference:
For more tartness, add more lemon juice.
To make more sour, add more vinegar.
If too sour, add more sugar.
For more heat, add more Sriracha.
1 head fresh broccoli, chopped
1/2 red onion, chopped fine
1/2 red pepper chopped
1 carrot, chopped
3/4 cup celery chopped
1/4 cup raisins
1/4 cup dried cranberries
3/4 cup mayonnaise (I use Duke's for flavor)
1 tbsp sugar (I use palm sugar)
2 capsful apple cider vinegar
1 tbsp lemon juice
1 tsp dijon mustard
1/4 tsp sesame oil
1 tsp Sriracha hot chili sauce
1/2 tsp dried tarragon
1/2 tsp dried basil
Sea salt, coarse ground pepper
Set aside the chopped veggies. To a large bowl, combine all remaining ingredients and stir to mix well. Add the raisins and dried cranberries. Taste the sauce and adjust seasoning. Add chopped veggies, mix well and serve.