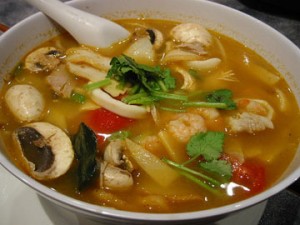 I love a spicy Asian soup, whether the traditional Thai tom yum, a Cantonese hot and sour soup or an Asian style fish soup.  I also love easy formulas, especially for favorite recipes.  Here's a basic soup I make using Asian flavors.  It's the combination of these flavors that give it that spicy Thai/Vietnamese taste.   Keep the ingredients on hand in the freezer and you can have a restaurant quality soup in less than 30 minutes.   Then I add whatever vegetables or proteins I fancy that day, often simply mushrooms, scallions or snow peas, and shrimp or a fish filet.  Dig in. 
Boil 4 cups water or chicken broth, then add:
2 stalks of lemon grass, crushed first then chopped
4 kaffir lime leaves, chopped into slivers
4 slices ginger, about a thumb size, chopped
1 tablespoon tamarind paste (for sour taste)
1 seeded, slivered chili of your choice (I use a mild goat pepper chili)
Simmer on medium heat for 10-15 minutes.
Strain the broth from the grasses, leaves and seeds into a new pot.
Adjust taste using:
1 tablespoon fish sauce (for salt and depth of flavor, I use Three Crabs brand)
A squirt of lime or rice vinegar to make it sour.
A pinch of palm sugar to offset the lime.
You now have a tasty broth.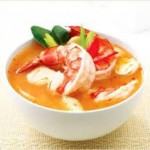 I like to add a dozen raw shrimp (heads on for flavor,) a handful of scallops or a tilapia filet the last 5 minutes of cooking.  I always add a handful of mushroom slices, sliced scallions.  Snow peas and asparagus are also favorites, you can add slices of beef or pork, even tofu and small meatballs.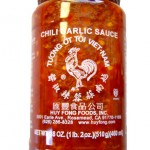 BEFORE SERVING, if you like hot and spicy, dab a teaspoon of chili garlic sauce or Sriracha chili garlic sauce. (Purchase at Asian and Oriental markets.)
Top with bean sprouts and sprigs of fresh cilantro or holy basil and eat with chopsticks.