A lowfat/no fat mini-Minestrone soup


This is an easy lowfat minestrone soup I particularly like. When I have fresh basil, I like to add about 20 shredded leaves to this soup. You can make this soup non fat by eliminating the olive oil. You won't miss the taste.

Easy Low Fat Mini Minestrone Soup

Start by sauteeing in 1 tsp olive oil until they carmelize:

1/2 chopped onion
1 chopped carrot
1 chopped celery stalk
1/2 chopped zucchini

Then add one bay leaf and :

1/2 can diced tomatoes
1/2 cup dried pasta
1/2 can white beans
2 cups Swanson broth
1 tsp sea salt
1/2 tsp black pepper
1 tsp dried basil
1 tsp dried tarragon
1 tsp dried oregano

I like to cook all my soups 45 minutes. You can shake some low fat parmesean cheese on top and top with fresh chopped parsley.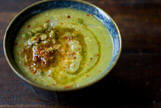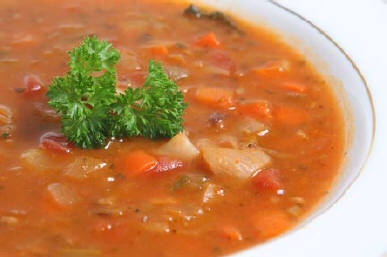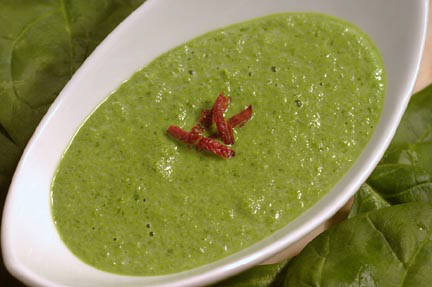 My First Ever Lentil Soup


I'd never made lentil soup before but from the recipes I'd seen, it shouldn't be much different than split pea. I always take note that most soup recipes use a bare minimum of spices, so I typically use 3 times the spice a recipe calls for. I don't like hot foods - hot as in peppers and cayenne - so while I do like a high flavor to my dishes, none of them are remotely hot. I promise.

So I chopped 2 onions and a cup of celery and my sole remaining organic carrot and sauteed in a teaspoon of olive oil, which is all the fat in this entire soup. I added 6 chopped cloves of garlic and a teaspoon each of sea salt, coarse ground pepper, basil, cumino, thyme, oregano, then thought to add an East Indian mixture of a teaspoon each of cinnamon, garam masala and cardamon powder.

I added 3 bay leaves, a small bag of rinsed lentils and 48 oz of Swanson 98% fat free chicken broth. Oh, and a big tablespoon of tomato paste. an hour later, voila. Not bad.

At first it was kind of boring, that is when I added the cinnamon, garam masala and cardamon. I also stirred in some chopped parsley and squeezed a lemon half into my second cup and really liked the lemon juice float on top of the soup as I eat it..
A Favorite Split Pea Soup


Split pea is a favorite of mine because I can make it in 35 minutes. Even though I make only one quart of it, I sautee my vegetables in a 2 quart pot so I can get them all kind of browning and carmelizing. Don't get sucked into making 2 quarts of soup by doing it in the larger pot though!

I start with a tsp of olive oil and chop a large onion. I like a lot of onion. I get that to carmelizing in the pan and add 2 chopped carrots and 1 chopped celery stalk. I really like twice as much carrot to celery ratio. If I chop them fine enough, I don't have to zap them later with the hand mixer.

I let that all cook together while I chop 6 garlic cloves. I like a lot of garlic also. I add the garlic in, then thinly slice and then chop a medium potato. if I keep it thin enough, the potato will melt right into the soup, thickening it.

Then I add just 3-4 oz of washed split peas, and enough lowfat chicken broth to cover it by 2 .

I add 3 bay leaves, about 1/2 tsp each of cumino and thyme, and a splash of oregano. Then I set it on a low simmer, barely but steadily bubbling, and set my timer on 20 minutes. At 20 minutes I check to see if it needs more broth, then let it go another 15 minutes.

When it's done, I can either use the hand mixer to make it very smooth, or I can just kind of whip it with a fork until it's the consistency I like.

Soup for breakfast? Absolutely!
A Next Favorite Split Pea Soup

MY NEXT FAVE split Pea Soup has one big onion, 2 smaller carrots, 1 stalk celery, about 2 oz chopped
turkey ham, one potato, 1 tbsp garlic powder, 1/2 tsp cumino, 1/2 tsp thyme and pepper, 1 tsp sea salt,
1/3 package of green split peas, 3 bay leaves and at the end at 1/2 tsp liquid smoke and a shake of
Louisiana hot sauce. And chop the vegtgies fine and cook only 35 minutes total so it has body
Another Split Pea Soup


I took a small bag of split peas and rinsed them well. I diced up one large onion, one entire bulb of garlic, 2 carrots, and two stalks of fennel instead of celery. The veggies browned in the pot while I chopped a fresh tomato up with a handful of fresh parsley. Into the pot, along with a giant can of lowfat chicken broth and the split peas. A quick stir, then a teaspoon each of oregano, basil, coarse ground pepper , sea salt, cumino, thyme. I added tarragon and rosemary, a 1/2 teaspoon each. Don't be freaked out by the amount of spice, I like food with high flavor and this is NOT a hot spice combination. 35 minutes later I had another really delicious soup.



A Rice and Beans Veggie Soup


I admit, I was going to cheat. I had a pint container of frozen soup that, as it thawed, I discovered was instead rice and beans. No problem. I simply added a can of chopped tomatoes and some nonfat chicken broth to it, along with a teaspoon each of salt, pepper and powered basil, cumino, thyme and oregano. I chopped an onion and 6 cloves of garlic, and cut the corn off 3 ears of corn. Into the pot, along with a handful of washed split green peas and 1/2 of a chopped white potato. I added about a cup extra of water and an hour later, I had a delicious soup. I love soup.






Lowfat White Bean Micro Soup with Rosemary and Parmesan


This is a mini version of a soup my grandmother used to cook when we were kids. You can make it non fat by eliminating the olive oil: Lowfat White Bean Soup with Rosemary and Parmesan

In 1 tsp olive oil, saute:
1 yellow onion chopped
1/2 carrot chopped
1/2 celery stalk chopped

then add 1/2 cup cooked white navy beans
1/2 tsp dried rosemary
2 cups chicken or vegetable stock or water
1 tbsp diced tomatoes if you like
1 tsp sea salt
Coarse ground black pepper

Cook for 20 minutes, then stir in:
A shake of lowfat parmesan cheese
1/2 cup fresh chopped parsley